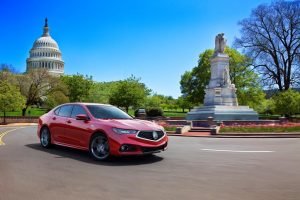 For model years 2014-2017, Acura MDX was named as one of the 10 Must-Shop Certified Pre-Owned Luxury Cars for 2018 by a major auto industry media outlet. This is the second consecutive year for MDX to receive this accolade. An Acura Certified Pre-Owned Vehicle is as close to a new car as possible, complete with benefits such as warranty, roadside assistance, and concierge services to name a few. Perhaps the most important thing to know is that not every vehicle is eligible to become a Certified Pre-Owned vehicle, and every vehicle that is eligible must pass stringent measures before it can become certified. Vehicles must be under six years old with less than 80,000 miles, have a 12-month/12,000-mile Certified Limited Warranty, and services must be up to date.
Each vehicle is reconditioned, inside and out, to create a certified luxury ownership experience. These elite vehicles must also pass a comprehensive 182-point vehicle inspection and a Vehicle History Report review. Virtually every mechanical system-from the engine to the door locks is checked and serviced to meet precise specifications, and a thorough appearance inspection scrutinizes fit and finishes to ensure the vehicle upholds the luxury and sophistication of the Acura name. Upcoming services are identified and performed during an inspection and new floor mats installed.
Every owner of an Acura Certified Pre-Owned vehicle is entitled to a free membership of Acura Owners — the official online source for service reminders and other owner information, services, and parts. What's more, Acura Certified Pre-Owned vehicles are covered by an extensive Roadside Assistance program, and owners receive the same great concierge services as new Acura owners with a suite of useful services for security and convenience during the 12-month/12,000 mile limited warranty period.
If you think an Acura Certified Pre-Owned vehicle might be right for you, visit Valencia Acura's showroom or website for a complete inventory. Valencia Acura 255-3000