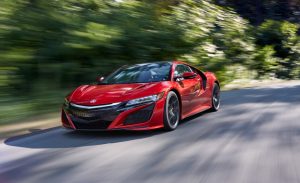 Smart, sporty, sexy. Doesn't that sum up how many would like the world to see us? While it may or may not be attainable in the flesh, it certainly is within our reach with the car we drive.
Actually, the car we drive is not only a personal choice but often a professional one. Image plays into the decision, as does the professional reputation we want to project. Maybe it's a family car, luxury sedan or sporty coupe that best fits our lifestyle and work needs.
If the persona to embody is prestige, you're in luck. It's been a great year for the auto industry, according to Business Insider now in its third year of sampling and rating vehicles. Insider considers each finalist in terms of three important questions: Was the vehicle compelling to drive? Did it stand apart from the competition? And did it involve a strong business case for the automaker that created it?
When all was said and done, Acura's NSX supercar stood victorious over all others. While the competition was notably fierce, I'm proud to announce the 2017 Acura NSX has been named Business Insider's 2016 Car of the Year.
Acura's NSX supercar is not only a worthy, exciting winner and a triumph for Acura, but it has also revived one of the greatest love stories in the history of the automobile, the publication cited.
You see, the first-generation NSX — New Sportscar eXperimental — sold under the Acura luxury brand name in the US in 1990 and was a real game changer. "It proved that Honda [Acura's parent company] could build a state-of-the-art supercar capable of taking on the best Europe had to offer, but with Japanese reliability," stated Business Insider.
After 15 years, the NSX retired in 2005 and work began on its successor. And now the wait is over. With its sleek design, and generating 573 horsepower, the twin-turbocharged V-6 offers on-demand power. With traction going to all four wheels, the NSX offers endless grip around corners. And even better, Acura's decision to go with hybrid technology was sheer genius.
Business Insider experienced the NSX in three distinct settings: on the road, on the race track, and on another track with a pro driver at the controls. "The NSX proved to be stunningly good to look at, joyful to drive, and easy to live with." And let me mention that while there's an array of stunning exterior colors to choose from, a personal favorite of ours is one fittingly named "Valencia Red Pearl." Imagine what heads will turn when this supercar hits the streets of Santa Clarita!
By the way, the NSX is an all-American machine designed in California and proudly built in Ohio. It just arrived in the Valencia Acura showroom. We invite everyone to stop by to feel the excitement and be one of the first to own this supercar!
Celebrating 20 years serving the community, Valencia Acura is a local, family-owned car dealership located at 23955 Creekside Road in Valencia. Valencia Acura has been recognized as a prestigious Acura Precision Team Dealer of Distinction for 11 years, awarded Acura's Council of Excellence for 13 years, and voted Santa Clarita's Best New Car Dealership for 13 years by the Signal newspaper. Owners Don and Cheri Fleming can be reached at (661) 255-3000. Visit www.ValenciaAcura.com.